October 23, 2023
Farm-to-Bowl: New Hudson Valley Chef-Made Farm-to-Bowl Food for Dogs by Glencadia 
By
glencadia2
Uncategorized


A season of change at Glencadia
By Phil Schools
Glencadia Dog Camp has provided country getaways for NYC dogs for 17 years. On a 20-fenced acre farm, the century-old barn has become one of the world's biggest doghouses, with AC, heat, and other amenities to boot.
This year, we are thrilled to introduce several new services: grooming and Spa Getaways. If adding these services were not enough, two trained chefs on staff have created our new line of premium food for dogs, using the bountiful ingredients of the Hudson Valley that surrounds our country estate, Hudson Valley Chef-Made Farm-to-Bowl Food for Dogs, made by hand with 100% local, organic, top quality ingredients.
Special delivery to Brooklyn and Manhattan is included
Subscriptions or single shipments available
Happiness For Dogs is…DINNER!
Humans can dream of the future, enjoy art, write, etc. Meanwhile, we don't know what goes on in a dog's head, but we do know they love …. DINNER! For dogs, good food is complete happiness. While we figure out the meaning of our lives, we can increase the happiness quotient in the universe with a few clicks.
Sustainability
Like other foods to be served fresh, such as Farmer's Dog or Pet Plate, our Glencadia Farm-to-Bowl Food for Dogs is fresh quality frozen. Completely local, we also aim to be sustainable. We obtain vegetables and meat from our close neighbor, Roxbury Farm CSA. While Jody Bolloyt, the owner of Roxybury, donates over $100,000 worth of produce to community food programs, blemished produce, referred to as "Seconds" is still largely considered waste. We can use these seconds to produce Farm-to-Bowl. If we can obtain some of this perfectly good produce and less desirable cuts of meat and offal and transform them into something both delicious and nutritious, it's a win-win for everyone involved. Our aim isn't to create a mass-produced product shipped across the country. Instead, we intend to craft the very best food for dogs, incorporating some produce that might otherwise go to waste. We'll package it in reusable containers and deliver it to our NYC customers in our vans, which are already making pickups and deliveries in the city.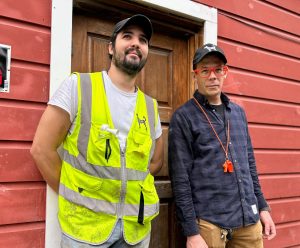 Meet our Chefs
Fernando Castro – Fernando joined our team in May 2023, right at the onset of the bustling summer season. Fernando has worked in Michelin-star kitchens, and most recently The Maker Hotel in Hudson, NY, and previously at The Edition Hotel NYC, The Standard High Line Hotel, and Gotham Bar & Grill to name a few. Notably, he is one of three staff members currently enrolled in Professional Grooming Courses at Paragon Pet Schools. Fernando is an impressive and exceedingly friendly individual. If you happen to see him while he's driving in the city, don't hesitate to say hello.
Phil Schools – (Author)
Since coming to Glencadia three years ago, I have wanted to help launch this Hudson Valley Chef-Made Farm-to-Bowl Food for Dogs. My family has lived in the village of Stuyvesant Falls, NY, just a short walk down the street from Glencadia for five generations and almost 100 years. Of the many restaurants, I have managed the kitchens of a few notable ones – Bread Alone Bakery & Café (Rhinebeck, NY), Bonfiglio & Bread (Hudson, NY), The Carolina House (Kinderhook, NY), The Bartlett House (Ghent, NY), Wunderbar Bistro (Hudson, NY), Chatham Brewing (Chatham, NY), and most recently, Merchants Social (Hudson, NY). I have spent years collaborating with Local Farmers in Columbia County and across the Hudson Valley and I am very excited to bring my experience to this new venture.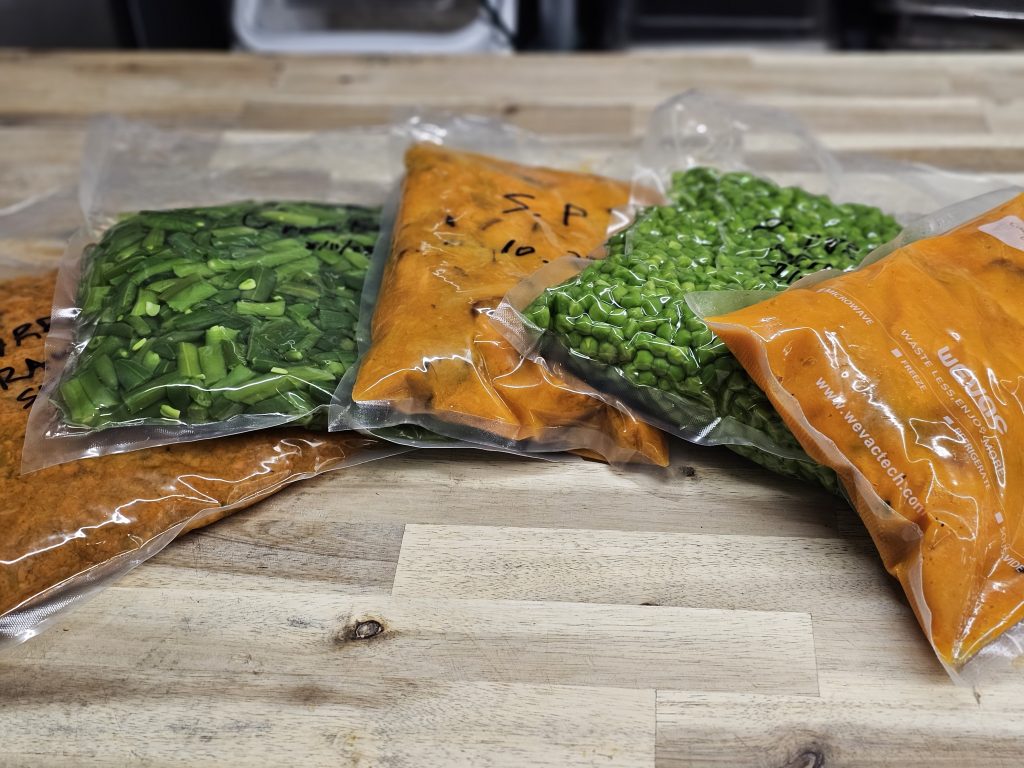 Ordering will be Live Soon!
We will be set up soon to take individual or monthly subscription orders through our App – app.glencadia.com until then if you have any questions feel free to reach out!
Email – support@glencadia.com
Toll Free Voice/Text – 1-866-508-5704
Voice/Text – 1-518-294-4343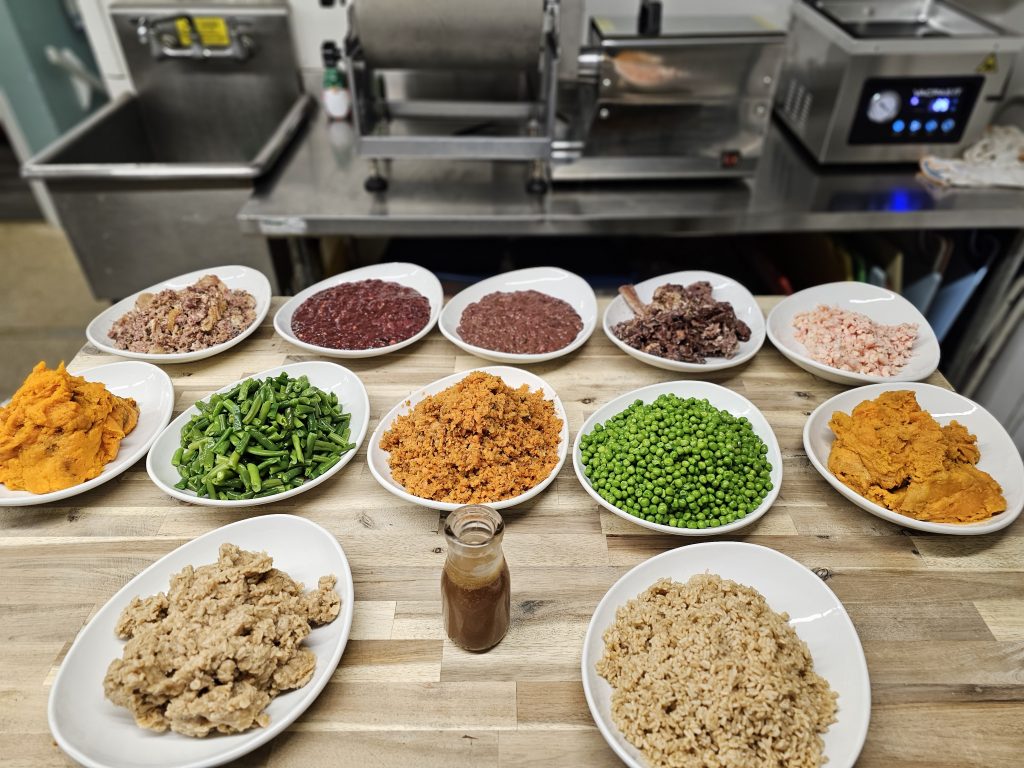 Help Us Get the Word Out!
If you like what we are doing here, share it with your friends on social media- use #foodfordogs #HVFood #glencadiadogcamp #letthedogsout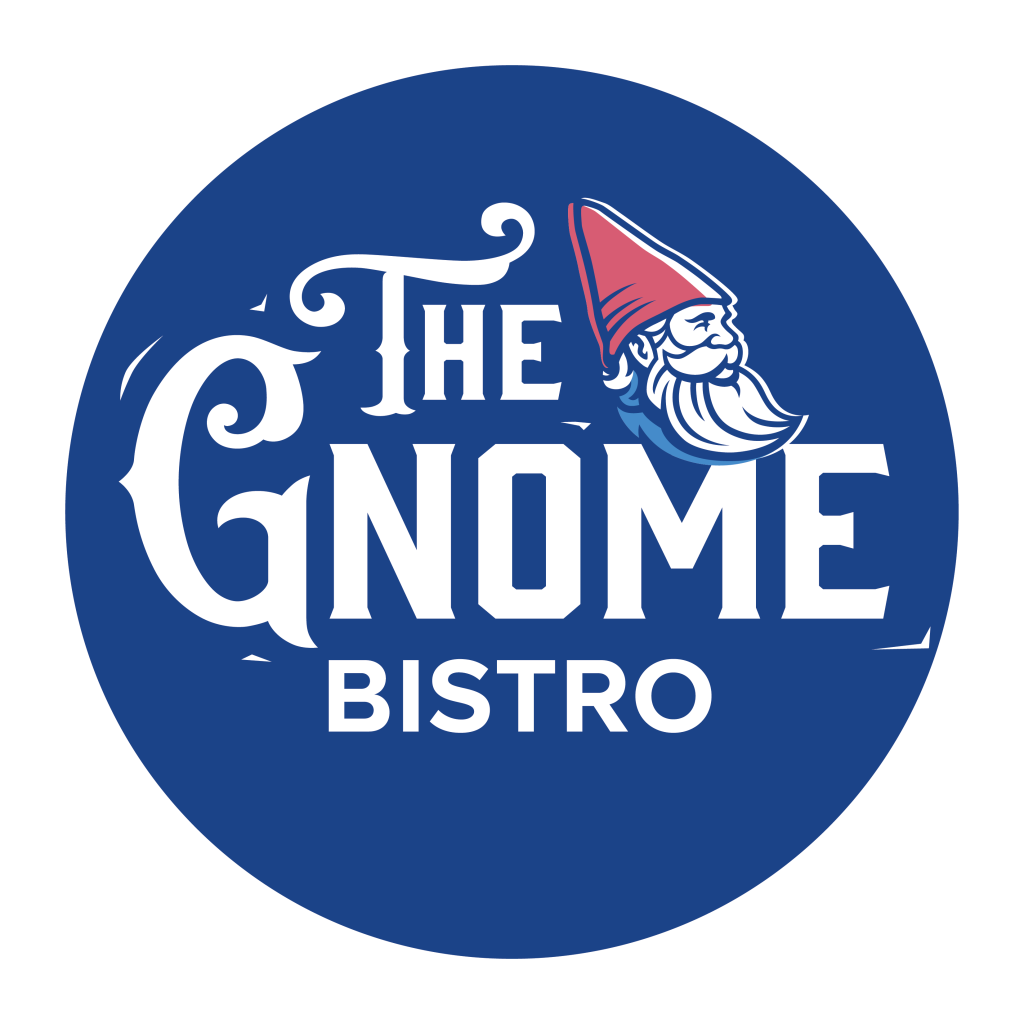 The Gnome Bistro
I want to extend my gratitude to my best friend, Zak Russell. We've known each other for what feels like forever, and we worked side by side for five years. Zak embarked on a remarkable journey last year by opening his own restaurant in East Chatham, NY. It's a warm and inviting family restaurant where you can enjoy generous servings of delicious food and drinks, all set against a backdrop of whimsical gnomes. When I shared my plans to start making premium chef-made food for dogs back in May, Zak was there to lend his support. I asked him to be on the lookout for a commercial kitchen we could rent for our venture. Without hesitation, he replied, "I'm closed on Mondays and Tuesdays—why don't you guys use my kitchen?" And that's exactly what we've been doing. – Zak, thank you for your countless acts of kindness, your attentive ear, and your incredible generosity. I cherish our friendship, and I'm deeply grateful for everything you've done. I love you, Brother! – And if you happen to visit The Gnome Bistro, be sure to look behind the bar for Ally, Zak's girlfriend, and The Gnome's Manager. She's an amazing individual as well. Thank you, Zak and Ally, and everyone at The Gnome Bistro! Check them out on Instagram @gnomebistro.
Ingredients & Their Origins Matter
Throughout my lifetime and culinary career, I've witnessed a significant shift in our society's approach to food sourcing. Today, Americans are just as discerning about the origins of their food as they were in an era when self-sufficiency in food production was the norm. This conscientiousness should extend to the well-being of our pets as well, but few of us consider the origins of the food we feed them. Understanding the advantages of sourcing food closer to its point of consumption is crucial. Not only does it benefit the local communities in which it is grown or raised, but it also has a positive impact on our, and our dog's environment. Shipping food across vast distances is not only wasteful but also environmentally irresponsible. Fortunately, our location in the Hudson Valley blesses us with a wealth of exceptional produce and proteins, and it's only fitting that we make it possible for our canine companions to share in this bounty. During our busiest seasons at camp, the Summer and the Holidays, we find ourselves feeding up to 150 dogs a day. Suffice it to say we purchase a significant quantity of dog food. I procure both canned wet food and kibble by the palate, to the point where suppliers are eager to meet with me and compete to earn our business. Given that we encounter numerous campers with allergies, some of whom bring their own food while others rely on our options, I must be highly conscious of the ingredients in the dog foods I select and have backup options readily available. In my pursuit of knowledge, I delved into the ingredients commonly used by the dog food industry, and the discoveries were often surprising. Despite exhaustive research and testing of various dog food products on the market, I couldn't find any information about the sourcing of ingredients, from any of the numerous dog food manufacturers we have partnered with. This research prompted me to start making my own food at home for my puppy Hank and led me down the road I am on today, producing high-quality human-grade food for dogs, from the bounty that surrounds us.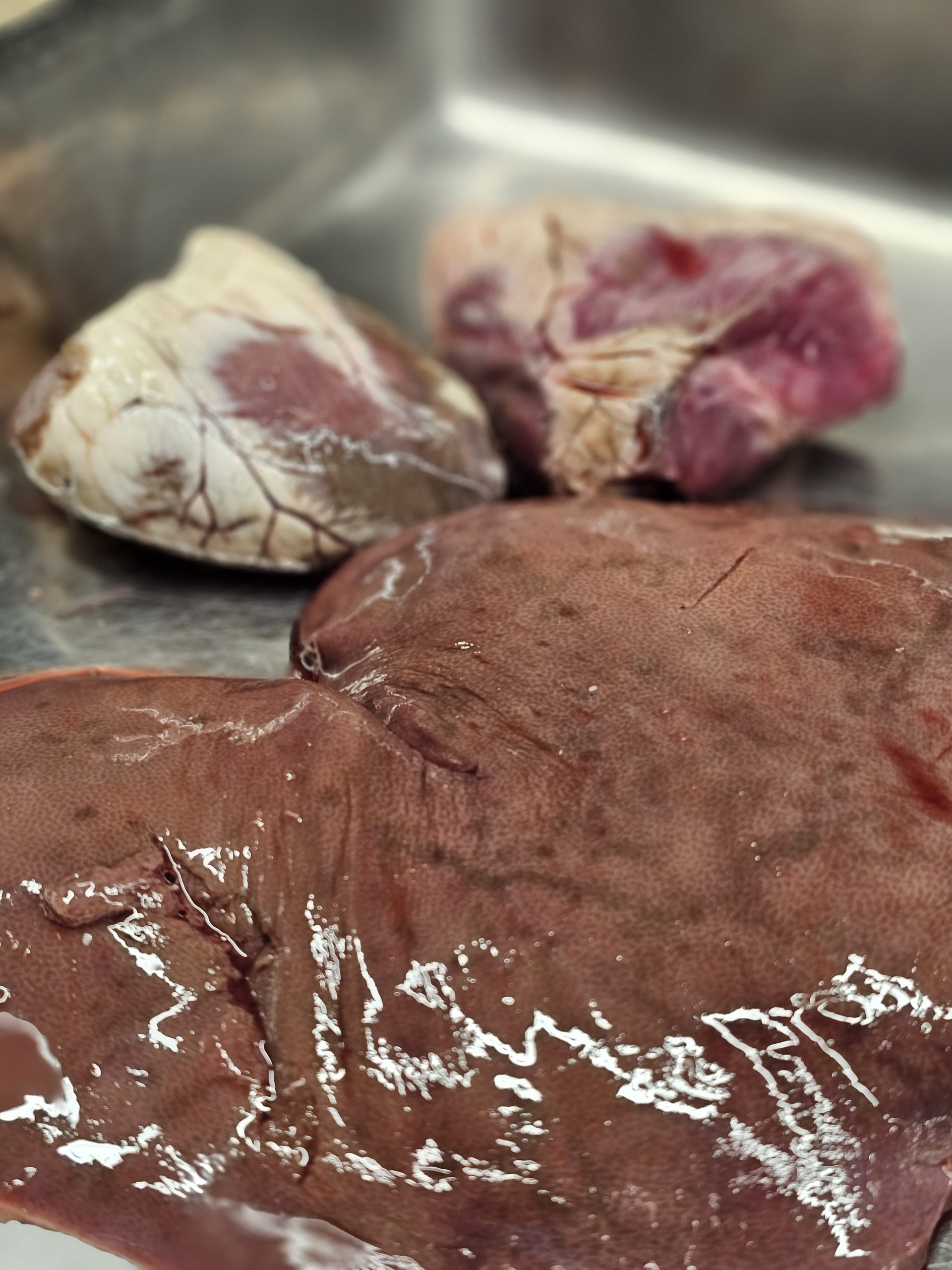 What do we feed at Camp, and will we transition to this food?
The short answer is no; we won't be introducing our new food at camp, at least not yet. We've made a substantial investment in this venture, and while our aim isn't to turn a profit, we also don't want to incur losses. Our ability to continue purchasing produce and meats from our valued farm partners relies on our capacity to sell the products we create with these ingredients. Regarding food at camp, some of our customers prefer to send their own food for their pets, but we take pride in providing our campers with our unique blend of "camp chow," reminiscent of what kids receive at summer camp. Currently, our blend comprises Purina Pro Plan Kibble (All Ages Sport Performance 30/20 Salmon & Rice Formula) along with Purina One Wet Food (Tender Cuts in Gravy with Real Beef & Bison), complemented by a specially formulated canned pumpkin designed for dogs transitioning to a new diet. This combination has proven highly successful, and the dogs genuinely enjoy it. While we don't plan to replace our current camp chow with this new product, we do intend to offer it as a premium add-on option for our campers during their stay for the time being. If this venture proves successful and we can figure out how to scale production without compromising our commitment to quality, we will reevaluate the possibility of transitioning daily feeding at camp to our new food in the future.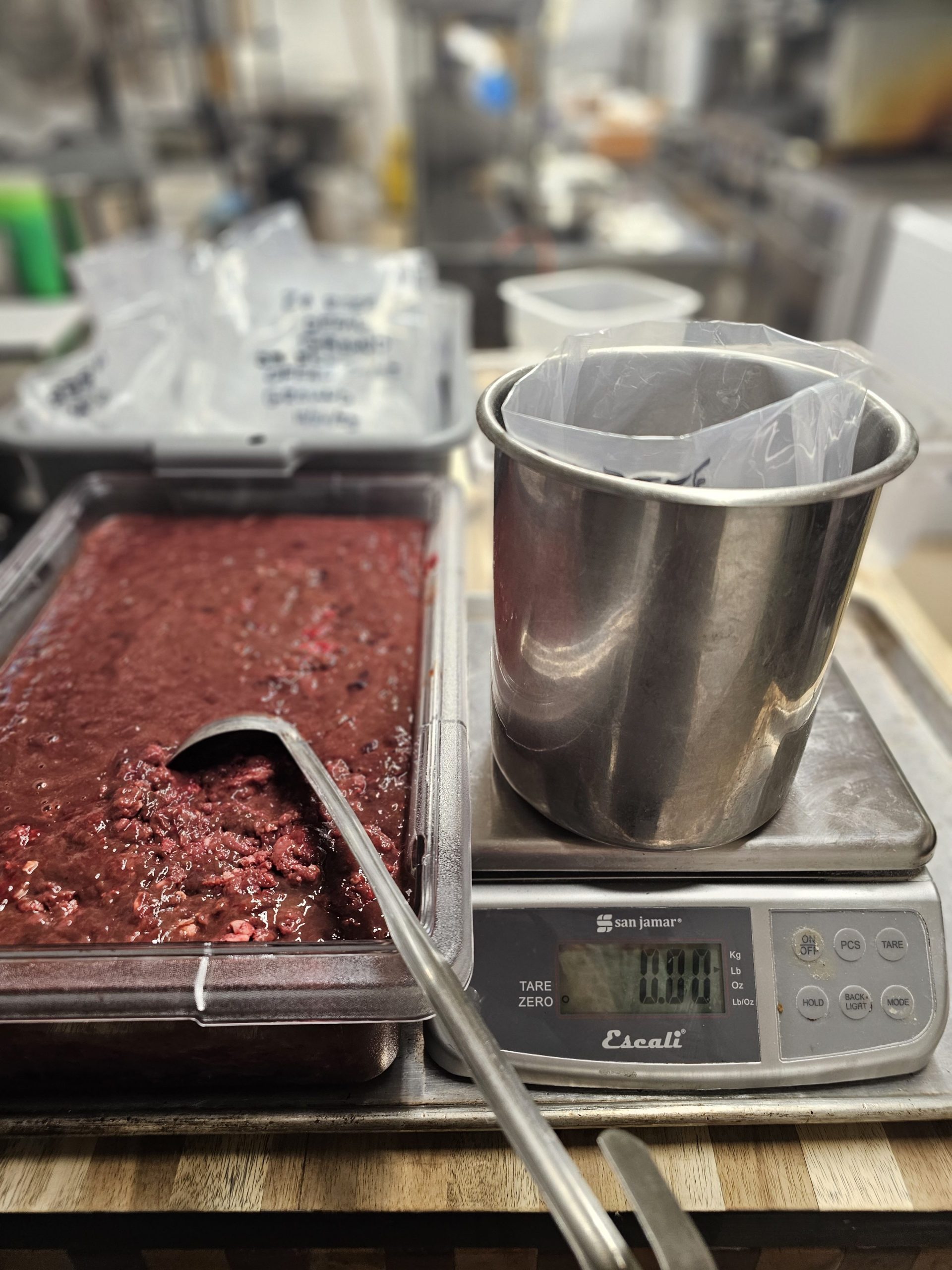 Our Recipe and its Benefits
Our new venture begins with a single recipe that combines both raw and cooked ingredients. Each ingredient is processed for maximum digestibility, resulting in a comprehensive and balanced meal, with a wide range of flavors and textures that one would expect from a Chef. Our protein blend includes a mix of both raw and cooked beef and lamb, sourced from farms across the Hudson Valley. Some of this lamb is raised here at Glencadia (more on that in a moment). For vegetables, we include winter squash, carrots, sweet potatoes, green beans, and peas, providing essential nutrients and fiber for dogs. Our grains consist of organic brown rice and whole rolled oats, although they're not locally sourced. To ensure every dog gets the necessary nutrients in one bowl, we supplement our whole food blend with essential vitamins and minerals for canine health, and fish oils for Omega-3 Fatty Acids. We blend everything with a 48-hour bone broth for added flavor and moisture. We've collected and processed these vegetables throughout the 2023 harvest season, stocking our twelve freezers for consistent recipe production. We're also receiving another 2000 lbs. of vegetables in the coming weeks. We will continue to receive fresh meat every week and grind it fresh for each batch.
Can the recipe be customized for special diets?
At this time, we don't offer customization for special diets. We acknowledge that not all dogs have the same dietary requirements or preferences. Our initial recipe has been carefully crafted to meet the nutritional needs and taste preferences of most dogs. However, as we become fully operational, we have plans to introduce three additional recipes to provide more options. These will include a meat-free recipe, a duck/game bird option, and a steelhead trout recipe. Please note that these additional recipes won't be available until late 2024.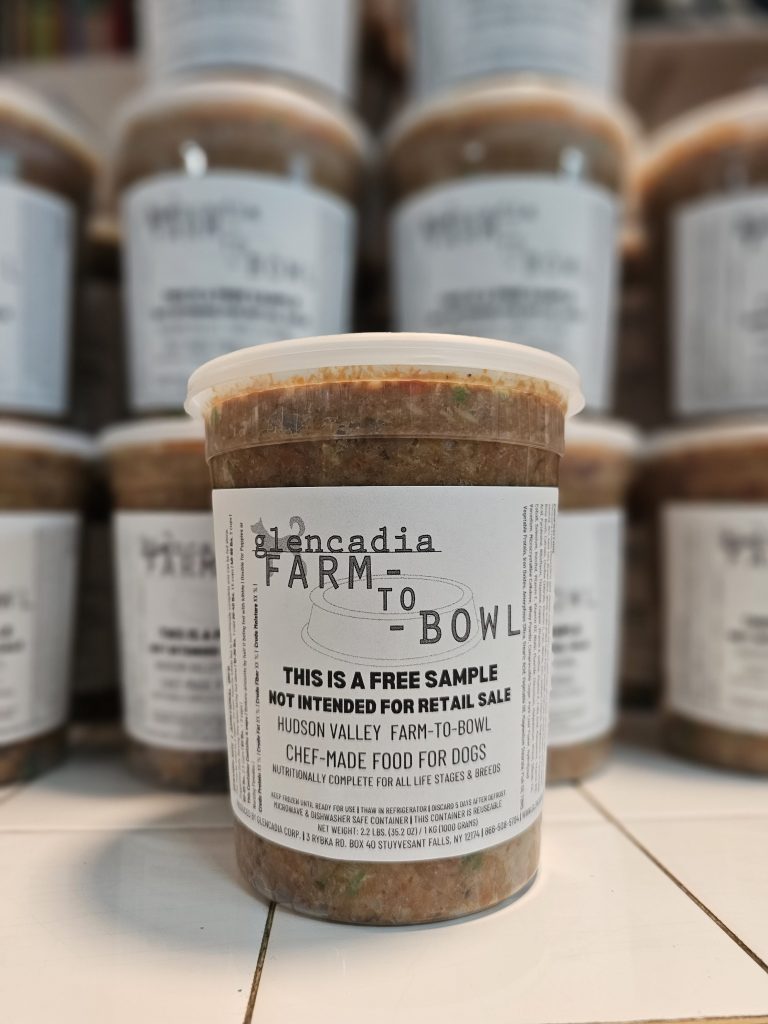 Government Regulations
The pet food industry is subject to strict regulations, and for good reason. In New York, we must adhere to numerous regulations outlined by the NYS Dept of Agriculture & Markets, the FDA, and AAFCO (Association of American Feed Control Officials). We've meticulously studied these regulations and are committed to producing food that surpasses the established standards. To comply with these regulations, we're required to take specific steps, including registering our product and labels with NYS Ag & Markets to obtain a registration. Whenever we wish to add a new product or recipe, introduce a different package size of our existing product, or even make a single ingredient change in our recipe, we must apply to the state for a new product registration. As part of this process, we will be making several batches this week to provide as samples. A random selection of twelve samples from at least five batches will be sent to a New York State-approved laboratory for independent testing of the product and a guaranteed analysis. The free samples we'll be offering to our customers over the next two weeks will bear a Sample Label marked "Free Sample: Not for Retail Sale," and the Crude Protein, Fiber, and Fat fields will be marked as XX% until we receive the Lab Results. Once we have the Lab Results, we can complete the registration with NYS, then we'll be ready to start accepting orders. Initially, we will only be able to accept orders from and deliver to New York addresses. However, given our many loyal customers in both New Jersey and Connecticut, we plan to register our product in those states in the coming weeks. If you reside in New Jersey or Connecticut and are interested, please reach out to us and we will let you know where we are in that process.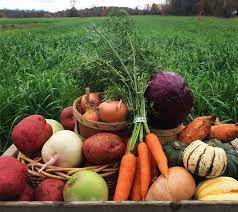 Sold Separately and by Subscription
You'll have the flexibility to purchase individual containers of our Food for Dogs in the quantity that suits your needs. However, for those seeking a more convenient and cost-effective option, we will be introducing a monthly Food for Dogs Subscription. The subscription pricing will be customized based on your dog's weight and your loyalty level. Your dog's food will be automatically delivered to your doorstep on a schedule that works best for you—weekly, bi-weekly, or monthly. In addition to our food subscription, we'll be offering packages that combine our country boarding and new grooming services with our chef-made food, creating a holistic solution for your pet's well-being. With our Complete Canine Wellness Subscription, your dog will receive a comprehensive package of care, fresh air, and chef-made food ensuring they lead a healthy and happy life. Stay tuned for all the details that will be unveiled in the coming weeks.
Collaborations
IRQA Meat Packing
Will and Aenne tend to a variety of animals on their farm, which they share with Glencadia Dog Camp. This diverse group includes three horses, four ducks, approximately 25 chickens, and a flock of 67 sheep that gracefully graze the fields. Each year, Will and Garry take the lambs that are ready to IRQA Meat Packing, a USDA-certified Halal butcher. In the vast landscape of the meatpacking industry, where a few giants dominate, IRQA stands as a small but essential player. They provide slaughtering, butchering, and packing services to numerous small family farms in the Hudson Valley, including Glencadia. In the process, Will has developed a friendship with Mohammed, the Owner, and Head Butcher at IRQA. Mohammed has thoughtfully set aside beef and lamb offal, bones, and fat for us to use in our protein blend and bone broth. Each week, we communicate our specific needs to Mohammed, who carefully separates, packages, and freezes the materials for us. The quality of the meat products from IRQA is exceptional. What's remarkable is that the offal, bone, and fat we seek would typically be considered waste products, without a clear market for sale. Yet, we're eager to purchase them because they are the best components for dogs to consume, and they are all locally raised here in the Hudson Valley. This collaboration is truly a win-win situation for everyone involved. We obtain precisely what we require, and both the farmers and IRQA enhance their bottom lines. I am grateful for Will's networking skills, which have opened the door to this fruitful collaboration.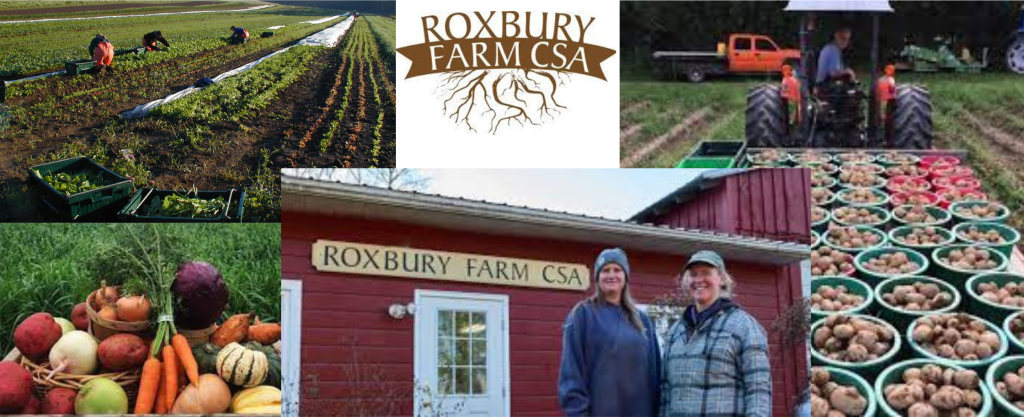 Roxbury Farm CSA
Roxbury Farm CSA holds a special place in our journey, and I want to take a moment to express my gratitude to Jody and her dedicated team at Roxbury. They are hardworking and skilled farmers who are making a positive impact in a food system that often feels broken. I recently had the pleasure of bringing my young children, ages 3 and 5, to Roxbury for a day of harvesting. We had the opportunity to harvest some of the very sweet potatoes that Fernando and I will be using in our recipe. It was a valuable learning experience for my kids, helping them understand where food comes from and the immense effort that goes into filling grocery store shelves. They loved it, we dug in the dirt and mud with our hands for hours, and their faces continually lit up as we pulled whole bundles of sweet potatoes out of the ground. To top off the day, the Roxbury team prepared some incredibly delicious cheeseburgers using meat raised on the farm. It was one of the best days my kids and I have had in a long time. Jody has been a pleasure to collaborate with, and her entire team is kind and welcoming. If you're searching for a way to get fresh vegetables and/or meats into your diet, I highly recommend considering becoming a member of their CSA. They offer four weekly drop-off locations in NYC and six in Westchester. You can find more information and order shares online through the following links: NYC Locations, Westchester Locations, and Order Shares Online.

Let us know what you think!
We will be giving away 100 samples of our Hudson Valley Farm to Bowl Chef-Made Food for Dogs, that's a mouthful, pun intended, between now and November 10th. If you've read this far you deserve a Free Sample, email us at farmtobowl@glencadia.com and see if we have any samples left! If you aren't already a Glencadia customer, but you would like a sample, create an account at app.glencadia.com before emailing. If you just want to check out what we do at Glencadia Dog Camp, or you are interested in getting your dog out of the city for a nice run in the country, check us out at www.glencadia.com