April 27, 2022
Grooming and Bathing Service
By
glencadia2
Uncategorized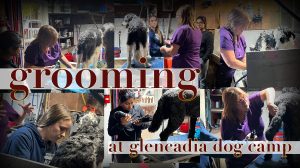 We now offer two new services here at Glencadia. First, customer can now add grooming to their boarding reservations. Second, we now are offering Spa Getaways – click here for more info on that service.
Bath Options:
Camp Shower Bath – Free Included with every stay – basic send 'em home clean. No blowout or brushing. May arrive at home damp.
Deluxe Bath – $30 – Includes bath w/deshedding shampoo & conditioner, blow and brush out. Deshedding and de-matting are not included.
Grooming Options:
Face, Foot, and Fanny – $60 – Nail trimming, ear and teeth cleaning, de-shedding, anal gland expression, hair shaving/trimming around the butt and genital area, shaving and trimming of the pads and top of feet.
Deshedding and De-matting – $30 – Deshedding shampoo and FurMinator brush out, detangling conditioner treatment, thorough comb out of matted fur
Pedicure w/Dremel Grinding – $15 – Protection between pads and top of feet shaved/trimmed, nail trim w/dremel grind. This procedure may help prevent the build-up of material in pads and reduce infection.
Other grooming services (deluxe bath, or groom) can be added to existing, new, and current reservations. Log into app.glencadia.com and click to add grooming.
Thank you as always for sending your dog to camp. Hope to see you soon.
Team Glencadia
Voice/Text : 518-294-4343 or 866-508-5704
Email: support@glencadia.com