August 31, 2023
Referral Credits
By
glencadia2
Uncategorized

There is a new feature on our website: referral credits.
Each member has an individual URL. You can see this information at the top of the portal when you log in to Glencadia as a member.

If you give this link to a friend or acquaintance and when they make an account and book a reservation, both sides of the referral (new and old members) get a $150 credit.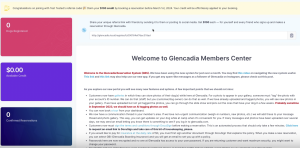 When the credits are processed,  you will see your credit balance on the dashboard. The credits never expire but the referral expires after six months. You can refer as many people as you'd like and build up referral credits until the cows come home – or the referral program changes.