June 14, 2023
Spot Spotter
By
glencadia2
Uncategorized

Glencadia Dog Boarding Camp partnering with InData Labs to bring AI pattern recognition to dogs, Spot Spotter®
Exciting news on the ability to share dog photos and updates: Glencadia Dog Camp (country dog boarding for NYC dogs) is partnering with InData Labs to bring AI pattern recognition to dogs, Spot Spotter®. This technology will be embedded seamlessly into our new Glencadia Reservation System (GRS).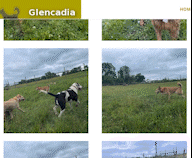 So, How Was Camp?
While children can come home from summer camp and tell you what happened, a dog can't. You can't call your dog and check-in. A big part of our service is keeping people and their dogs in contact when apart. Text messages and status updates from the dog caregivers are good but the best way to reassure families is with a steady stream of photos and videos of their dog doing things at camp.
However, taking pictures of dogs and sending them to their owners has never been as simple for us as some might suppose. A kennel staff person can snap a photo and plan to open the Glencadia reservation system (GRS) later and look for contact info and send it later. This rarely works out as planned.
We can take pictures of the pack on the romp – hundreds of photos to make sure we get at least one good picture of every dog. After this, unfortunately, the owners have to scroll through way too many dog photos. Or, staff people here can look through all the photos and tag the owners. In the past, this has been tedious and only the staff who actually work with the dogs seem to be able to actually get this job done. It seems silly to take staff time away from dog care to tag photos.
Some owners give up looking for pictures of their dogs. Some of our repeat dog family parents are confident their pets are fine after many successful visits to camp – but such owners might miss some great action shots and portraits. Other new customers might comb through 300 photos, only to be disappointed and not spot their own dog.
This long-standing problem here at Glencadia Dog Camp (dog boarding, New York City) is about to be solved. Glencadia: when you go on vacation, so can your dog.
Dog Photo Sharing, Fixed
Lots of photos. Lots of dogs. Seems like there should be a way to solve this problem. We think there are technical and logistical solutions to this problem and that we have found the answers.
The InData Labs/Glencadia Spot Spotter AI is breaking new ground. All existing AI systems need nose prints, or clear images of a dog's face. With Spot Spotter our goal is to recognize dogs by tails, ears, fur patterns, and other characteristics.
Spot Spotter will take months to learn how to find dogs from our database. As it learns how to distinguish ears from ears and tails from tails, customers might help by scrolling through galleries to ID their own dogs and add photos to their galleries. If the Spot Spotter AI agrees with the owner of the dog, then it works.
When a solution to an old problem shows up, it feels great. Now, we watch this solution get to work and make the problem go away!
Other Tech Upgrades
Other new features in the new GRS include sharable, permanent, individual photo galleries for all customers, QR Code dog collars, GPS tracking for all dogs, mass and individual human dog photo tagging, and an update thread to allow customers to quickly review all changes when it is convenient without any nuisance alerts.
Kennel staff can more quickly and frequently update owners but dog families will not be bombarded with notices. Technology and change affect even humanity's oldest relationship, with our first domesticated animal, the loyal dog. The Spot Spotter and other innovations will help keep dog families connected with their best friends when they are away.
Thanks for sending your dog to camp. When you go on vacation, so can your dog.
Glencadia Dog Camp
Glencadia.com
972F+XP
Stuyvesant Falls, NY 12174, United States
InData Labs
indatalabs.com